2014 Interbull Meeting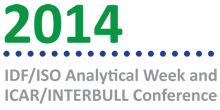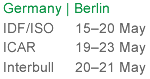 The 2014 Interbull Meeting will occur on May 20 and 21, 2014, and will be held in conjunction with the 39th ICAR Session and the IDF/ISO Analytical Week in Berlin, Germany.
The Interbull annual meeting is the leading event for research on bovine genetic and genomic national and international evaluations and some 200 scientists and industry representatives from 35 countries are expected to attend. The 2014 ICAR/INTERBULL Conference is organized by the German Cattle Breeders' Federation (ADR).
The venue for the meeting will be The Estrel Berlin Hotel & Convention Center, situated at Sonnenallee 225, 12057 Berlin.
Registration to the 2014 Interbull Meeting:
Registration should be made using the following link: http://www.icar2014.de/
Deadlines:

Type of registration

Interbull only (€)

Interbull+ICAR (€)

Early bird – until 2014/02/16

Participant

280

600

Accompanying person

150

360

Regular (2014/02/17 - 2014/03/31)

Participant

330

720

Accompanying person

180

420

Late (2014/04/01 – 2014/05/07)

Participant

430

850

Accompanying person

180

480
Interbull open sessions will include scientific reports related to the following themes:
Genetic evaluation methods
National and international genetic evaluations
National and international genomic evaluations
Breeding objectives and novel traits
Program:
Please, check the general program at http://www.icar2014.de/ and the Interbull specific sessions at https://wiki.interbull.org/public/Berlin2014?action=print.