2023 Interbull meeting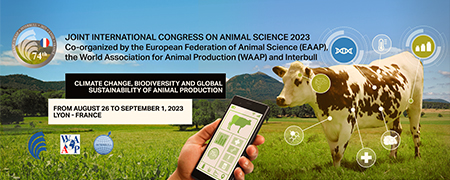 The 2023 Interbull Annual meeting will be held in Lyon, France from 26-27 August, in conjunction with the 74th EAAP annual meeting and it will be concluded with a joint EAAP-INTERBULL meeting on 28 August.

The 2023 EAAP-Interbull meeting will be held at the CENTRE DE CONGRÈS DE LYON, 50 Quai Charles de Gaulle, 69006 Lyon, France.
Participation to the 2023 Interbull Annual Meeting requires a separate paid registration fee. Information on how to register, costs and hotel booking are all available through the EAAP website: https://eaap2023.org

The call of abstracts for the EAAP meeting is now open (Deadline March 1, 2023). Visit the website of the event if you would like to make a contribution to the meeting https://eaap2023.org/abstracts-information/
The overall theme for the Interbull Open Meetings is: "Innovations in national and international genetic and genomic evaluations". Authors are invited to submit titles and abstracts within the overarching above theme that specifically address the following topics for dairy and beef cattle:
Big data for the benefit of genetic and genomic evaluation

Meta-analytical methods in animal genetic and genomic evaluation.

Experience with single-step evaluation.

Implementing new traits in genetic and genomic evaluation systems.

Cross-breed genetic and genomic evaluations

Sustainability, efficiency, methane emission and adaptation/resilience.
Important deadlines:
Deadline for title & abstract submission
June 8th 2023
Scientific program ready by
July 15th 2023
Deadline for submitting your paper on Interbull Bulletin
September 29th 2023
Click here for submitting your title and abstract for the Interbull Open Meetings

General Program Overview - subject to change

Day
Time
Meeting
Location
Thursday, August 24
13:00-17:00
Interbull Technical Meeting
Idele Office in Lyon (23 RUE JEAN BALDASSINI, AGRAPOLE)
Friday, August 25
08:00-12:00
Interbull Technical Meeting
Idele Office in Lyon (23 RUE JEAN BALDASSINI, AGRAPOLE)
13:00-16:30
Interbull Steering Committee
Idele Office in Lyon (23 RUE JEAN BALDASSINI, AGRAPOLE)
Saturday, August 26
08:30-12:00
Interbull Open Meeting

CENTRE DE CONGRÈS DE LYON

13:30-15:30
Interbull Business Meeting

CENTRE DE CONGRÈS DE LYON

16:00-18:00
Interbull Open Meeting

CENTRE DE CONGRÈS DE LYON

20:00-23:00
Interbull Dinner
location to be confirmed
Sunday, August 27
08:30-12:00
Interbull Open Meeting

CENTRE DE CONGRÈS DE LYON

13:30-15:00
Interbull Open or Business Meeting

CENTRE DE CONGRÈS DE LYON

15:30-17:00
Interbull Technical Meeting

CENTRE DE CONGRÈS DE LYON

17:00-18:00
Interbull Steering Committee

CENTRE DE CONGRÈS DE LYON

19:00-21:30
EAAP Welcome Cocktail

CENTRE DE CONGRÈS DE LYON

Monday, August 28
08:30-12:30

Joint Session EAAP - Interbull: Up side and down side of "genomic selection"

CENTRE DE CONGRÈS DE LYON

14:00-18:00

Joint Session Interbull-WG-AnGR: Molecular measures of diversity and their

role in monitoring and management of breeds

CENTRE DE CONGRÈS DE LYON