The Interbull Centre is the operational unit of Interbull and provides genetic information services and applied research for improvement of livestock to a worldwide network and fulfills a mandate as an European Union Reference Centre for the scientific and technical contribution to the harmonisation and improvement of the methods of performance testing and genetic evaluation of purebred breeding animals of the bovine species.
Administratively, the Interbull Centre is a section of the Department of Animal Breeding and Genetics of the Swedish University of Agricultural Sciences (SLU), which has been contracted by ICAR to be the operational unit for the Interbull permanent subcommittee and for the Interbeef working group. As the European Union Reference Centre, the Interbull centre interacts with the EU member states through the international genetic evaluation services and also provides assistance to the European Commission in issues related to bovine breeding and genetics.
The Interbull Centre is formed by 10.25 full time staff equivalents, and is supported by the administration section of the Department of Animal Breeding and Genetics.
The Centre is one of the six units which make up the Department of Animal Breeding and Genetics, which in turn is part of the Faculty of Veterinary Medicine and Animal Science at SLU.
There are four research units: "Molecular Genetics", "Bioinformatics", "Quantitative Genetics" and "Applied Genetics", and two service units: "Interbull Centre" and a laboratory for contract research, "HGEN Lab" within the "Molecular Genetics" unit.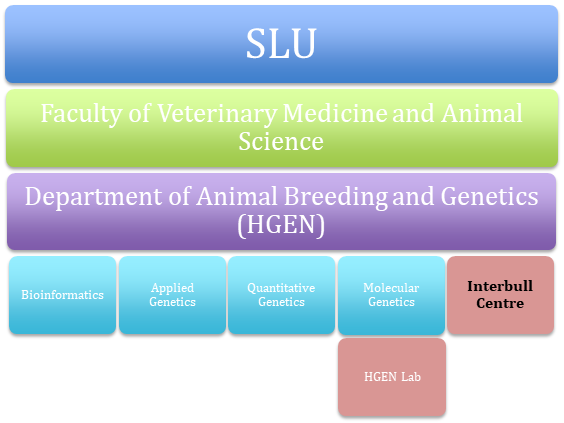 Guiding principles:
Our services are performed with
Accurate predictions

Independence

Timely delivery

Documented methods and practices publicly available

Unbiased statistics

Comprehensive communication

Secure data repository
Management and genetic data analysts are committed to fulfill customer requirements and to achieve policy and goals through continual improvements.